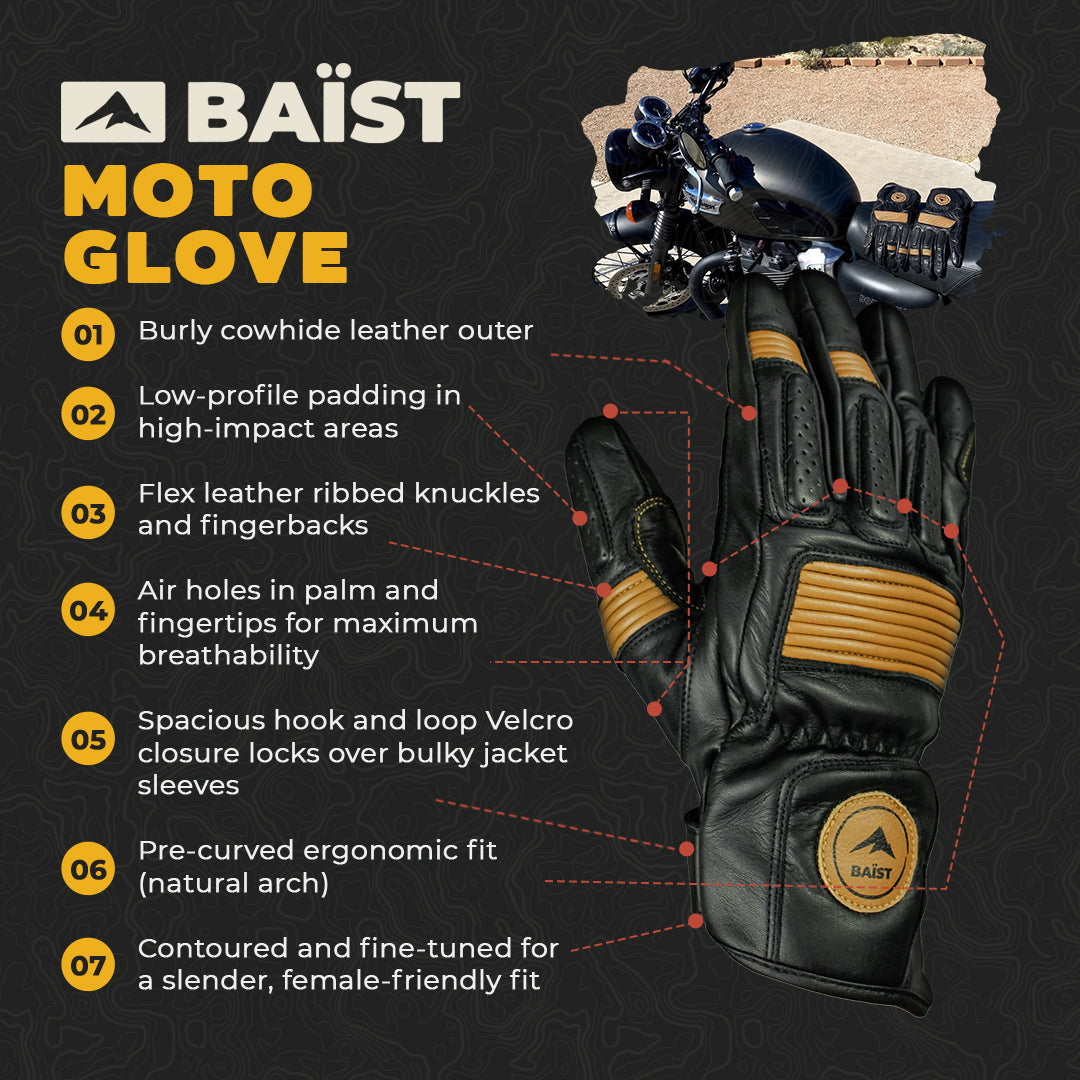 Women's BAÏST MOTO Glove
---
On a motorcycle, your hands are your lifeline. Clutch, brake, signal, throttle, steering. It's all in your hands.


But protection isn't the only thing you need. Tactility and comfort are just as important. Clunky, bulky gloves can restrict full range of motion and response time, leading to accidents, and if your gloves aren't comfortable, you're likely to leave them at home far more than you should.


That's why we decided to take the concept behind our bombproof snow gloves and give you the ULTIMATE protective, uber-tactile, and comfortable motorcycle glove.


Keep your hands secure and protected in style with our cowhide leather gloves, featuring padded rubber backing with flex leather ribbed knuckles and fingers.


With air holes at the palm and fingertips, you'll never spend another day sitting at stoplights in the summer heat with sweaty hands, like a kid on his first date.


The touchscreen compatible index finger and thumb make it easy to use your phone on the go, and the soft polyester lining and pre-curved ergonomic fit mean when you slip your gloves on, you'll forget you're wearing them.


Add in a durable leather wrist strap with a hook and loop Velcro closure, and you have a motorcycle glove that can't be beaten.


Our BAÏST MOTO gloves make the choice between glove and no glove a no-brainer.


Your hands are your lifeline. Give them the comfort, tactility, and protection they need when you're out on two wheels.

此產品的評價:5.0 / 5.0 顆星。
已收到 4 則評價。
Loved the gloves!
EXCELLENT comfort, fairly easy to get on and off.
Amazing
Great for my small hands and comfortable enough for me to use the gears.
True to size
The size is true to size.I used the sizing chart and the gloves fit perfect.
Reliable and pretty comfy
So I have been riding for a couple of months and have been looking for good riding gloves. Well let me tell you these are comfortable, reliable, and fit very nicely.
Frequently Bought Together